Fun Meter Buttons!



The pointer moves to show how much fun you are having!
Get one for your friend, family member or co-worker.
Better yet, get one for yourself!
Order a bunch for a special occasion.
Anniversary party, Birthday party, Name tag for Reunions, Business promotion, Company picnic,
Family reunion, Graduation party, golf charity sponsor round or any fun event.
You can wear them to the club, bingo, concerts, sporting events, tournaments,
out partying with friends, office party or even to school.
If you would like to order CUSTOM Meter Buttons, please contact us
or scroll to the bottom of this page.
We can print your logo, phrase, company name or anything you want.
Use them to promote your business as a give away to customers.
Promote an event with a custom saying to make it fun.
The buttons are 2.25" in diameter with pin clasp on back.
The blanks have nothing printed below the pointer.
Order blank Fun Meter Buttons, just $2.25 each plus shipping.



Your shopping cart may POP in a new window.
To place an order for ten or more, scroll down a little.



1 blank
Fun meter button
$2.25




10 blank
Fun meter buttons
$2.20 each




25 blank
Fun meter buttons
$1.75 each




50 blank
Fun meter buttons
$1.40 each




100 blank
Fun meter buttons
$1.25 each




250 blank
Fun meter buttons
$1.19 each




500 blank
Fun meter buttons
$1.15 each




1000 blank
Fun meter buttons
$1.10 each

Any of these may be purchased in bulk lots of 50, 100, 250 or 500, contact us for quote.
Custom phrase or logo orders welcome! Contact for quote
Fun Meter Button Examples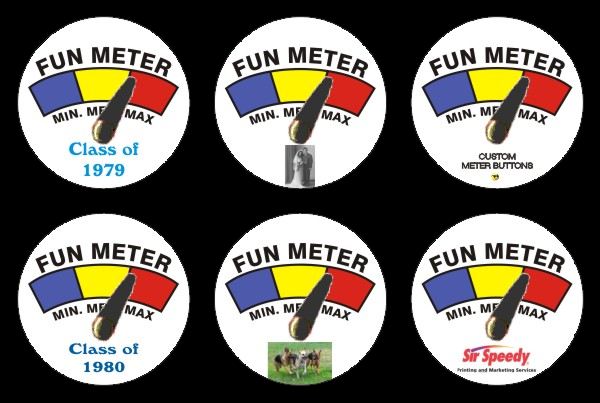 Class of 2009 $2.35

Sold Out


Party Animal $2.35


It's My Birthday! $2.35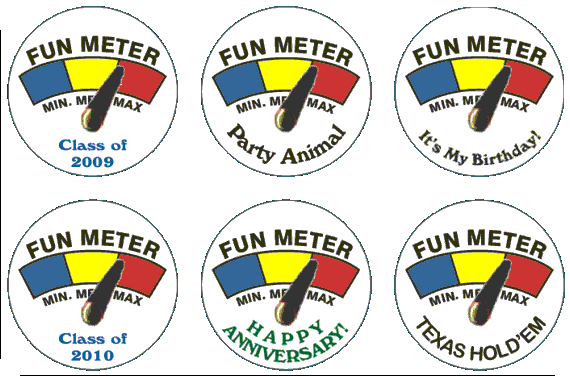 Class of 2010 $2.35

Sold Out


Anniversary button $2.35


Texas Hold'em $2.35

Sold Out

~ Some samples for ideas ~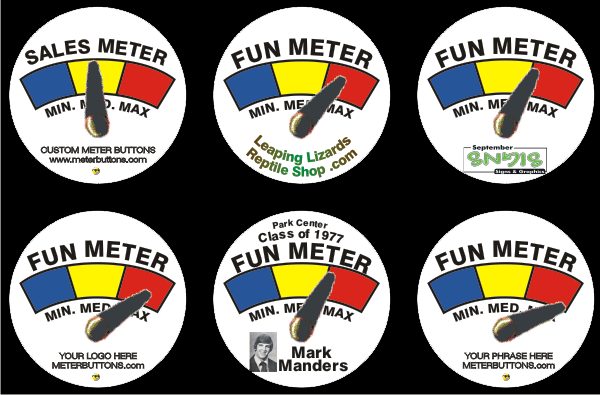 Money order and credit card payments ship next day! Checks take 3 to 7 days to clear.
**These Major Credit Cards Accepted!**











Credit card transactions are the fastest, safest way to get you items!
Order Online Now by clicking the "Add to Cart" button!
Blank Fun Meter Buttons for All Ocasions!




Get Custom Imprinted Fun Meter Buttons
with your saying printed on them.
You can order 25, 50 or 100 buttons with up to 2 lines of copy.
Just enter what you want on your button and click to buy.
If you want just 1 line of copy, leave the second line blank.
After we receive your order, we will send you a .pdf proof
for your approval before production of your order.
Your Proof will come from @armourdiecutting.com, Be sure to check your junk and spam folder.
We are busy, so it may take up to 24 hours to get back to you.
If your idea is complex or you want your logo on the button, email Mike.
On custom orders, please allow 5-10 days lead time after you pay and approve your Proof.
Please keep it clean, this is a family business.
If you want more than 100, please contact us.